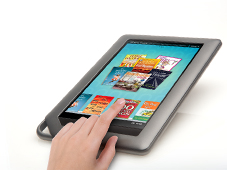 Our friends over at Engadget are reporting that the Nook Color is going to move more deeply into the tablet space (as opposed to the ereader space). The bottom line being that the new Nook Color (Nook Color 2?) will have both flash and apps. Since it runs on an Android OS, the report is certainly credible.
In fact, the Nook Color is quite popular as a cheap Android tablet that becomes pretty fully featured with a little hacking (TechRepublic and NookDevs).
Why do I care? The only thing that stood between me and the Barnes & Noble Nook Color (rooted) was that it lacks a GPS. Google Navigation is one of the primary reasons I love Android. Lose that and you pretty much lose me. But the Nook Color is what I consider to be the ideal form factor for a personal tablet. The 7″ screen, 8.1″ x 5″ 0.48″ size, and 15.8 ounce weight, combine to provide an optimally portable tablet that just feels good in one's hands. The build quality is as good as any.
Now, if all you want is an email reading, web surfing, angry birds playing, tablet, the new Nook Color really should merit a look-see.