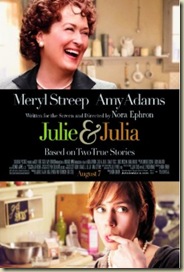 It wasn't too long ago that I wrote that I had watched a string of good movies at the theater.  You know, those movies that you feel like you didn't waste your time and money when you decided to go the theater.  As Joy and I were driving up to the local Marquee Cinema, we were talking about how there are only a handful of movies that are really near and dear to my heart.  I was quite surprised when I saw Julie & Julia to find that the handful might well have expanded by one.
Now, I'll admit to being biased toward Amy Adams.  But, let us be honest.  Sharing the screen with Meryl Streep is not a career choice to be taken lightly.  Streep is one of the best actors of either (or any?) gender in history.  Her portrayal of Julia Child will do nothing to diminish her stature.  The vigor, the heart, the humor, the courage, the amor-osity (its my blog and I'll make up words if I want to)  of Julia Child are all quickened by the deft competence of this peerless actor.
How fortunate then that Amy's charisma does not shrink but stands equally with Meryl's on the screen.  As the story shifts from one era and one scenario to the other one does not find oneself lamenting the shift.  Each of the parallel story lines is so engaging that the viewer leans into the switch with piqued curiosity and positive expectation.
I enjoyed seeing Stanley Tucci, complete with bald pate.  (I am not a fan of hair pieces or of Tucci being a villain.)  When one sees Julia Child through the eyes of her husband, Paul, as portrayed by Tucci, one cannot help but love her, too.  Tucci portrays the husband many of us aspire to be for our wives.
The soundtrack was fun and beautiful as one expects from an Ephron movie.  Ephron has been involved in a lot of less than excellent projects, but then Babe Ruth wasn't exactly Ted Williams when it came to batting average, either.  Ephron is a slugger.  Julie & Julia will take its rightful place on the pedestal with her other home runs, including When Harry Met Sally, You've Got Mail, and, her piece de resistance, Sleepless in Seattle.
The writing, stage sets, and cinematography did not disappoint.  One technical point: the food photography has been done better.  See the movie Tortilla Soup to see the standard-bearer in this category.  Even the television series, Every Day Italian, is superior in this area.  I'm not saying that this detracts from the movie, but as a deep-in-his-bones foodie, and given the significance of food in the movie itself, I would have appreciated more attention in this area.
I will buy the DVD.  I would have bought the DVD even if I hated the movie just for the scenes in Paris.  The outdoor shooting was excellent and the locations were wonderfully selected.  Paris is one of, if not the most, beautiful cities in the world.  She deserves the fond attention given by this movie.  If Nora Ephron does a DVD feature on Paris like she did on Manhattan (You've Got Mail), I'll probably cry with joy.  Not surprising from an Ephron movie, but Brooklyn is given short shrift.  I would love to have seen Julie grow to appreciate the virtues of the borough.  (Nora, your friends may enjoy the digs on the borough, but please rise above that in future, okay?)
But please do not take any of my criticisms the wrong way.  This is a movie of the highest caliber.  It is well-written, well-produced, well-acted, and well-wonderful.  See it on the big screen.  Buy it.   Watch it with friends after having them over for dinner.  Then "take a nap."  (You'll have to watch the movie to get the joke.)